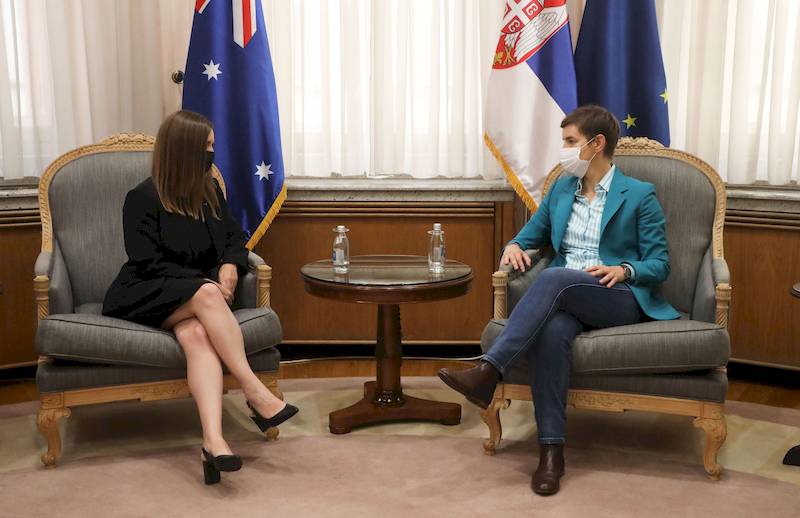 Prime Minister Ana Brnabic talked today with Ambassador of Australia to Serbia Ruth Stewart, who is ending her term, about current bilateral relations between the two countries, economic cooperation and opportunities for joint project engagement.
Brnabic pointed out that the relations between the two countries are good, but that she expects that, after the crisis caused by the epidemiological situation, political contacts will be additionally intensified.
The Prime Minister pointed out that there are numerous opportunities for joint projects and improvement of economic relations, while expressing the expectation that Australian companies will use the potentials that Serbia offers and invests in our market.
The Prime Minister expressed her gratitude to Ambassador Stewart for her personal contribution to the improvement of bilateral cooperation during her mandate in Serbia and wished her much success in the future, both professionally and personally.
Stewart emphasised that Serbia is a great chance for Australian companies and that it is sending positive signals to foreign investors through efforts to implement reforms and modernize countries.
She expressed the expectation that such positive changes will affect the increase in the number of Australian companies on the Serbian market.
The mining sector is recognised as primary for investors from Australia, Stewart said, adding that she expects greater investments and more significant cooperation between the two countries in this area in the future.
It was pointed out at the meeting that the numerous Serbian diaspora in Australia is an important link between the two countries and a significant driver for further improvement of interstate relations.
www.srbija.gov.rs